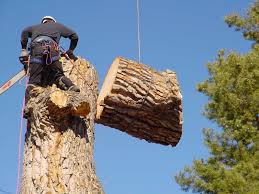 Once in a while a home or business owner is in the unfortunate position of needing to have a tree removed. The tree may be dead or dying or is too close to the building or is interfering with wires or cables or shades out a part of the property that needs sun. In that case, the property owner should look for the same things in a tree removal company that he or she would look for in any contractor.
First, the professionals at the tree removal company should be licensed and insured. Tree removal, especially the removal of a large, dying or dead tree, can be very hazardous. The professionals must be trained and have some years of experience in the proper and safe way to take down an old tree. Ideally, the tree removal company should be a member in good standing in their state's arborists association or a chapter of the International Society of Arboriculture. The company should also be happy to provide references to the homeowner and shouldn't have any outstanding complaints filed against them with such organizations as the Better Business Bureau.
The tree removal company should send a representative to the property to evaluate what sort of job needs to be done. The company should also offer the prospective client a free estimate for the work. The workers themselves should be courteous, tidy and come when they say they will come. They of course should take away any debris from the tree removal as part of the tree removal service. Though removing the stump might not be part of the service, the company should be able to provide this if the client asks for it. The tree removal company should also have a bricks and mortar address and an emergency number where they can be reached.