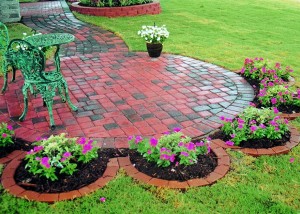 Both new and older homes suffer from the effects of improper grading of the backfill around the home. The grading, or slope, of the ground surrounding a home must meet code requirements for the area to prevent water from ponding or flowing back toward the home. All of the water from rainfall and runoff should quickly be carried away from the foundation of the home.
Older homes that have gone through many annual seasonal heaves and falling of the ground due to winter freeze and spring rains often have vastly altered slope patterns than when the backfill was originally graded when the home was built. For both new and older homes that are not graded properly, there can be ponding that leads to flooded garages and basements as well as structural damage to foundation walls due to massive hydraulic pressures of saturated ground.
Hiring the expert services of an experienced excavation company can increase both the curb appeal and home safety by having the land around a home properly graded. Flat driveways that cause water intrusion under the garage door can be fixed by altering the grade if they are gravel. Concrete and paved driveways can have a channel cut closest to the garage door where a drain is installed.
Excavation experts can fix all drainage issues related to improper backfill soil types to poor grading of the ground around the home. A hard clay ground that develops fissures in the lawn during the dry months can be replaced with moisture retaining top soils. Soggy soils can be replaced with soil types that provide better drainage. Excavators can also dig to install French drains around foundations exposed to excess water.
Reshaping the slope of the ground around a home improves both the look and the safety of the home. Bumpy yards with steep angled slopes can be backfilled and smoothed. Water that flows in areas where it should not can be regraded to direct it where is should go. If there are any issues with the look of the landscape or its water removing capacity around a home, call an expert excavation company to have it corrected.