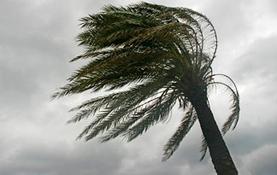 It's important for home and business owners to do everything they can to minimize damage to their properties during hurricane season, which begins annually in early June and lasts through the end of November. Proper tree trimming is essential because falling trees and dead tree branches are among the most common ways that buildings, automobiles and utility lines are damaged when severe rain and winds are in the forecast. There are a number of things to consider in order to prepare your trees for hurricane season.
All branches that are diseased, dying or dead should be trimmed from trees to prevent their falling or blowing away and causing harm. The interior foliage pattern of trees should be kept intact in order to deflect the wind. Branches and tree foliage should be allowed to grow near the ground level to help the tree better tolerate high wind volume. It is a good idea to invest in the skills of a certified arborist on an annual basis to evaluate the condition of trees on a property that are very mature. A dominant lead branch should be promoted on every tree by shortening branches in order to obtain a strong branch attachment to the tree.
It's important not to unbalance a tree by cutting off the top or side crowns which can lead to premature breakage and decay of limbs. Avoid cutting away the tree's primary limbs that exist along property lines to prevent the tree from wind damage. Protect the branch collar without employing angular or flush cuts. During one growing season, no more than one-fourth of the crown of a mature tree should be removed. Proper tree trimming in advance of hurricane season and keeping a keen eye on the condition of your trees throughout this time period can not only prevent damage to the property and your trees but also may save lives.