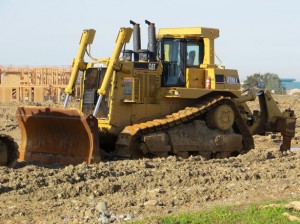 Researching and hiring the best finishing contractor is usually the top priority for construction projects to create the best final appearance. Your project's quality depends largely on excavating contractors because they form a level and solid base to your project, from walkways to home foundations.
Depth Matters
Even a small structure needs a proper base for long-term stability. Excavating contractors dig down to a specific depth to create quality concrete pours or gravel installations. If you have a thin base for a large structure, it is possible that the foundation could buckle and cause severe damage to the building itself.
Soils Differ
Whether you have sand or clay-based soil, each construction site must be compacted to form a sturdy building base. For example, contractors amend sandy soils with organic materials that hold more moisture. The ground has better stability with a mixture of different soils. Using a plate compactor or larger machine, excavating contractors compact the area before applying any foundational features.
Drainage Concerns
Any structure needs proper drainage away from the foundation to avoid soil flooding and base instability. Excavating contractors level the ground before an installation and also create a slope. With a slight slope to the ground, water moves away from the structure rather than pooling. Liquified soil contributes to building failure and sink holes.
Safety Issues
Excavating contractors' top priority is safety. If you have a large project, they determine if it is feasible in the desired location. Overhead power lines and underground gas pipes are dangerous obstacles for construction workers. Excavating contractors survey the area before digging into the ground to keep all workers safe.
A quality construction project starts with an experienced excavation contractor. A firm base provides the strength for a structure to last many years. Watch these workers in action to see the importance of their craft.
CLICK HERE TO LEARN MORE ABOUT REALTREE, INC AND OUR SERVICES