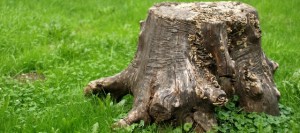 After removing a tree from your property, you are often left with a tree stump in your yard. Although some homeowners although the stump to rot and disintegrate naturally, there are a number of ways to hasten the tree stump removal process.
Hand Digging
The first method for removing a tree stump from your property is to dig the stump and top roots out by hand. Begin by shoveling the dirt away from the top of the stump. Then use an ax or saw to cut the stump below the surface of the ground. Once you remove the stump, cover the remaining stump with dirt to fill in the hole. Hand digging works best for smaller trees
Stump Grinding
For larger trees, using a stump grinder is the easiest way to remove stumps from your property. A stump grinder is a machine that grinds the stump and roots up between six to twelve inches below ground level. Once the stump is completely ground up, cover up any hole or divot with soil. Stump grinders are available to rent, or you can hire a tree company to do the work for you.
Chemicals
For a less labor intense tree stump removal, you can buy chemicals that hasten the decomposition of the stump at a number of home and garden retailers. Simply drill some holes into the stump, and pour the chemicals into the holes. The chemicals speed of the natural decay process of the stump. However, do not expect the tree stump to disappear overnight. Using chemicals to remove a stump from your property still takes time.
Fire
Finally, another tried and true tree stump removal method is burning down the stump. Use the fire method only if the stump is away from buildings, plants, and other structures on your property. Many homeowners create burn piles on top of old stumps. Over time, the fire burns the stump down into a pile of charcoal that can easily be dug up or buried with extra soil.