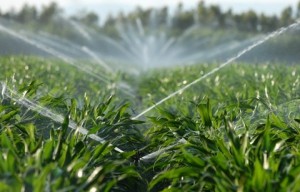 It is the job of every homeowner to ensure that his or her lawn receives adequate water. Proper land irrigation is important for the following reasons.
Fire Prevention
Whether caused by lightning, human carelessness or arson, wildfires are an extremely destructive force of nature that may strike with little warning. Regular irrigation prevents vegetation from drying out and becoming kindling for a wildfire.
Attractive Lawn
Every suburban homeowner wants an attractive lawn. Keeping the lawn green and attractive is even a requirement for residents of many neighborhoods. Nothing makes watering a lawn easier than automatic sprinklers. Automatic sprinklers are installed flush with the ground and are connected via subsurface tubing to the home's water supply. When the water is turned on, pressure causes the sprinklers to pop up, and when the water is turned off, the sprinkler heads drop back out of sight into the ground.
Gardening
Home gardens are growing in popularity. Even families with small suburban lots are discovering that they too can grow their own fresh fruits and vegetables. Drip irrigation installed by a reputable excavation company improves garden production and makes watering quick and easy.
Healthy Trees
Contractors and real estate agents know that a property with mature trees is more valuable than a lot that has been cleared. Mature trees require large quantities of water, especially during dry seasons. Irrigation helps keep large, valuable trees healthy and free from disease so they can provide a source of beauty and shade for years to come.
Professionally installed irrigation systems are always ready to use, keep unsightly hoses out of the way and can even be set up with an automatic timer system. A land excavation company can help any homeowner with the installation of automatic sprinklers and subsurface drip irrigation systems that will make watering any size yard a breeze.