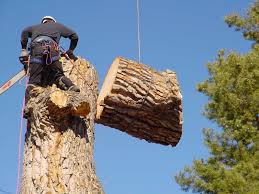 Trees are great for the environment, provide shade, and are crucial for wildlife. However, there are times when a tree must go. There are several reasons why a person may want to remove a tree from their property. Maybe the tree is diseased or damaged and poses a risk. The tree could be in the way or simply be a nuisance. Below are the top five reasons to remove a tree.
Tree is Diseased or Decaying
A dead or diseased tree with no way of treating it becomes weak and unstable and should be removed as soon as possible. Decay worsens as time goes on, so the tree will only become more unstable.
Tree is Damaged
Windstorms, lightning, or other acts of nature can damage a tree, beyond repair, causing a need for the tree to be removed. This is important if it is close to power lines, a building, or a roadway.
Tree is Causing Structural Damage
As trees grow, they can cause concrete to buckle, damage their surroundings, and can even harm buildings when they grow too close.
The Tree is in the Way
The tree may need to go to make room for construction or for aesthetics. Overtime a cute, little tree can become quite large and it can obscure views or block out sunlight.
Liability
A tree that is damaged or decaying could fall, causing someone to get hurt or damage someone else's property. A damaged tree could fall without warning and be a risk. It is also problematic if it is near power lines or the road, where it could be traffic hazard if it leans for falls over. To avoid liability it is best to remove potential hazards.
So, there may become a time for one to seriously consider tree removal. Whatever the reason, one should hire a professional that is experienced with tree removal. If attempts are made to remove a tree by someone inexperienced, property damage or injuries could occur.