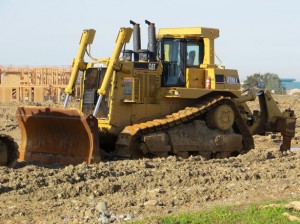 Grading landscape can often be a harrowing task, but it doesn't have to be!
In order to level your property, begin by breaking up the topsoil so that it becomes loose and easy to work with. After loosening the soil, take a landscaping rake and roughly level the soil with the rake to produce the desired effect.
Once you have the soil roughly level, take a two by four and lay it down on the edge of the area which you are leveling. The two by four is used similarly to a screed in cement work. Proceed to drag the two by four across the area you are leveling. This final leveling ensures that the area is absolutely board flat. Any low levels can be seen as the two by four is dragged along the property, and should be filled in accordingly. Any high levels will cause the board to become raised, although if the soil was properly loosened, the two by four will simply push the earth forward, allowing for a flat surface. Soil from the high levels can be used to fill in any ditches you might find.
If you plan to lay sod on the landscaping, or your intention is a perfectly flat area, use a level to ensure that no slope exists. If, however, you are grading the landscape to prevent water runoff from damaging your home or shed, the gradient should be set at about one inch per foot so that the water rolls away from the building.