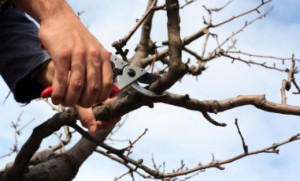 Pruning trees help keep them healthy and help ward off insects and diseases. It will also help increase their production of flowers and fruit during the growing season. There some pros and cons to winter tree trimming.
Pruning in the winter gives trees extra energy reserves and roots that will support lush new growth in the spring. During the spring and summer months, trees are using energy to grow. When pruned in the winter while the tree is dormant, most of its energy can be directed to healing the cut that is made when pruning. In addition, insects and diseases that can invade trees through the wound left from tree trimming are not as likely to gain entrance cause harm during the cold season. Another advantage to pruning in the winter is that the limbs are easier to see and get to without the leaves on the tree.
Trees that ooze sap in the winter are not good candidates for winter pruning because of the sticky mess it will create on your hands and clothes. Another good reason is that sap will run down the tree and make it look unsightly. Some of those types of trees include Maple, Birch, Dogwood, Walnut and Elm. Pruning them in the winter will not result in lasting harm to the tree and the wound should heal in the spring.
Some trees should never be pruned in the winter. For example, pruning early blooming trees will actually reduce the number of blooms that appear in the spring. Those types of trees include magnolia, lilacs and flowering plum. Tree trimming should take place immediately after they bloom in the spring.