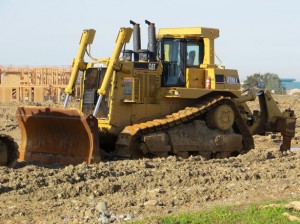 Land excavation is used for a variety of applications on a residential, commercial and industrial scale. Homes may need excavations for a brand new in ground swimming pool project. The ground has to physically be removed to create a space deep enough to accommodate the basin of the pool. Similarly, a residential property needs a land excavation to install a septic tank system that needs to be completely underground. Residential land excavations require the proper permits from the local departments of zoning in a given community. Homeowners can't just start digging through their land without having the permission of the town or city.
On a much larger scale, land excavations are done to install essential infrastructure such as water and gas supply lines. There is a tremendous network of pipes underneath every residential street. The installations are carefully mapped out so that future excavations can easily locate the pipes. In fact, striking buried pipes is a major risk of any land excavation project. Gas lines that are accidentally hit may burst and cause a tremendous accumulation of explosive content in the ground.
This can lead to significant explosions that can blow away entire homes and buildings. Therefore, only qualified excavating professionals that have the right equipment can dig out the ground to prevent explosions. Similarly, there is a risk of hitting water main lines when excavating the ground. Such accidents can cause major leaks that spread onto the local roads and cause traffic delays and other problems such as minor flooding.
An excavator is the most common type of vehicle that is used for excavation projects on construction sites, local roads and residential properties. An excavator tractor is a smaller type of vehicle that can be used for minor projects that require removing dirt and other material from the ground.