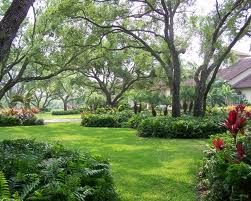 Homeowners naturally want to be able to take great pride in their homes, and upkeep is essential if you want everything to be in excellent condition. You should remember to keep your lawn in mind when you are working on your home. It is the first thing people see when they visit, and practicing proper tree trimming can go a long way towards beautifying your space and creating great curb appeal.
Creative Landscaping
Many people overlook their trees as a source of specialized landscaping. While it is generally fine to let trees grow on their own, you may also consider trimming them in a way that will encourage them to develop in a different shape or direction. By doing this, your trees can be sculpted to better suit your landscaping tastes.
Thinner is Sometimes Better
Those homeowners with many trees on a small lawn may wish to consider thinning out their branches. This will allow you to keep all your trees while allowing much more light onto your property. Thinning the trees out a bit will also give the appearance that your lawn is larger than it actually is.
More Fruit and Flowers
Those who have populated their lawns with fruit trees and flowering trees can help them be even better. Proper trimming of these types of trees will encourage healthy growth that will result in more attractive flowers and a healthy abundance of fruit.
Remove Unhealthy Branches
Inspect your trees regularly for signs of disease, breakage or injury. It is important for cosmetic and safety reasons that you remove any branches that are not thriving. One diseased branch left on your tree could ultimately kill your entire tree.
These are just a few tips to help you have the most attractive lawn with the best trees in the entire neighborhood. Take good care of your surroundings, and you can expect to have a wonderful place to call home for many years to come.