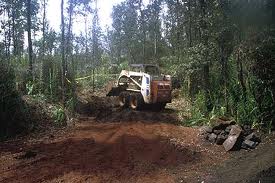 The process of clearing trees, shrubs and other types of vegetation from land may seem straightforward at first, but the fact is that this can be a grueling and intense process that must be completed with care. If you are thinking about starting a home improvement or new construction project in your space, you may be wondering if you need professional land clearing services. Here are five signs that may indicate that it is time to schedule professional service.
1. Utilities Are Nearby.
When you need to clear away trees or other types of vegetation, spend time reviewing the land. When overhead power lines are present, they can be damaged if limbs fall on them. If tree roots have grown around gas lines or other utilities in the ground, these can also be damaged during the clearing process.
2. Structures Are Close to the Area.
Likewise, buildings or other structures that are located close to the area that needs to be cleared may also be damaged if branches fall onto them during the clearing process. Special steps may need to be taken to ensure that the branches are removed with care.
3. Vegetation is Older or Established.
When vegetation is older or established, the roots may be deep or difficult to remove. Special techniques may need to be employed to ensure that the tree is killed and the root does not generate new growth.
4. The Area That Needs to Be Cleared Is Extensive.
Clearing away one tree can be a time-consuming and even dangerous project, but this effort is complicated when you have a considerable amount of space that needs to be cleared. Whether you have a small lot with many trees or a large lot with trees and shrubs, professional services may be beneficial.
5. You Don't Have the Proper Equipment.
The proper equipment may also need to be used for fast, safe land-clearing. In some cases, crews will need to get into the trees to remove limbs before felling trees. Additional equipment may need to be used to clear away the roots.
When you need to clear land, you may be wondering if this is a project you want to tackle on your own. The fact is that land clearing can be challenging for many reasons, and there are benefits associated with contracting the services of a professional team for this type of project.