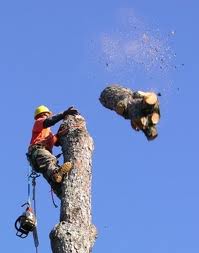 For homeowners with a large outdoor living space, tree removal may be necessary from time to time. Hiring a professional tree service offers homeowners peace of mind knowing that the job will be handled safely and that property damage won't be an issue. There are at least 5 situations where a tree removal service should be contracted.
1. Storm Damage
Tree damage resulting from severe weather is not uncommon. Trees surrounding the home may lose limbs or be completely uprooted. This type of damage creates hazardous conditions, and the necessary work should only be performed by a tree removal service.
2. Tree Health And Disease
When mature trees are victim of disease, or they have died and become unsafe, a professional tree removal service will be necessary. Trees that appear healthy on the outside may have rotted in the inside, and will pose a danger to homeowners without tree removal experience.
3. Site Work
For those homeowners who are planning an addition or extensive landscaping project, professional tree removal may be necessary to eliminate trees that are too close to a proposed addition, or don't fit well into future landscaping plans.
4. Underground Utilities
Sewer lines, water lines, and underground electric service may be compromised and overcome by the root systems from surrounding trees. As these trees become more mature the danger may increase, and damage to underground utilities will prove to be an expensive repair. A tree removal service will eliminate trees that pose potential problems.
5. General Tree Removal
Whether it's creating a view or allowing additional sunlight into the yard area, general tree removal should be handled by a professional. When the goal is to improve the landscape, a tree removal service can also handle stump removal which will help to beautify the yard.
Hiring a professional tree removal service is the best possible way to avoid unfortunate injuries and to ensure a job well done.