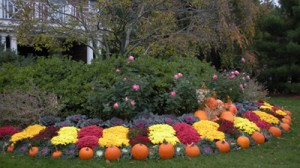 The right landscaping can give your home the outdoor appeal you've been looking for. If you're thinking of adding some trees to your yard, there are a few elements that you should consider before making your final selections. Read on to learn about the criteria you should use to choose the right trees for your yard.
Size
The size tree you place in your yard depends on the purpose of the tree and how much room you have to plant. Short and wide trees need a large footprint, while short and skinny trees are good for small areas. Medium and large trees are good choices for areas of the yard where you want more shade. Don't forget to consider vertical space (such as roof and power lines) as well as horizontal space when you're evaluating your tree needs.
Climate
Depending on where you live, some trees grow better than others. Consult a local garden center or another resource to learn what trees do best in your region. Temperature, precipitation, frost, and natural pests are all important climate-related criteria to consider when choosing a tree.
Purpose
The reason why you want to plant a tree will inform the type of tree you select. For example, certain trees are the best choices if you're looking for shade or privacy, while you might instead be driven to choose a tree based on the beautiful flowers it blooms.
Taking these three factors into account when you are selecting trees for your yard can make a big difference in the way your finished yard looks as well as your enjoyment of the tree.