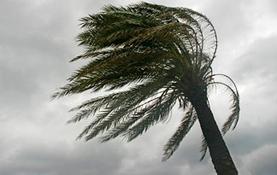 Hurricane season is right around the corner and as we enter the beginning of it, it is important for you to prepare your trees and yard to endure the high rate of winds. Even though a lot of damage occurs from wind speeds, some damage occurs to homes due to property flying around and trees falling down. To prevent this from happening, it is important to be hurricane ready.
Preparing Your Trees
When you begin to prepare for a hurricane, visit your yard and remove all of the obvious things that will catch in the wind and cause damage to your home. If you have hanging plants, take them down and bring them into your home to avoid them falling or crashing into your home. You should also lie any potted plants on their side, given they are too big to bring into your home.
Go out to your trees and begin by removing any vines that are around the tree. Vines can cause pressure and stress on the tree which will eventually lead to a tree losing branches. You should also remove any loose branches and thin branches from the tree. These can break off during a hurricane and become dangerous weapons.
Once the smaller and thinner branches are removed, trim your tree and provide more room throughout the canopy of the tree. By thinning out the leaves and foliage, you will be allowing air to blow more freely through the tree and prevent the wind from grabbing the tree during a large gust.
Your bushes should also be trimmed and you should remove any weak branches from them as well. Prune them to make them roomier for air to flow through, just like your tree.
If you have smaller trees or freshly planted trees, consider using stakes to hold them in place. If you do not, they may become uprooted and cause problems or die from breaking.
If you notice that your tree is not stable or it is suffering from root rot, you may need to consider having a tree company come out and trim the tree down or remove it from the ground. A tree that is not rooted well or suffering from disease can topple onto your home, if the conditions are right.
Your Overall Yard Maintenance
It is important to monitor your yard during a storm and prepare as much as you can before the storm comes. When planting trees and plants in your yard, choose ones that are sturdy and do not place them too close to your home in case they ever do topple over.
You should call a professional company to come out to your home and cut the tree branches away from any wires that they may be touching. If the branches become entangled with the wire during a storm, you may lose electricity quicker than you planned.
Removal of debris, yard maintenance, tree pruning, and plant preparation are all ways that you can better prepare your yard to handle a hurricane this season.