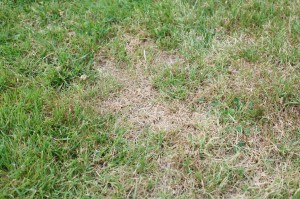 If you have ever walked out onto your lawn and noticed patches of brown spots, you were probably taken aback. These spots make your grass appear ugly and discolored from the rest of it. The patches of brown are there for a reason and to rid your lawn of them, you must figure out what is causing the spots and then address them accordingly.
What Causes Brown Spots?
There are many different reasons why brown spots will show up on your lawn. One of the first major reasons is because of a lack of proper lawn maintenance. If you are not watering your lawn properly and taking care of it, your lawn will die and become brown.
Other causes include:
Chemicals.
Dull mower blades.
Animal waste.
Poor soil.
Roots.
Erosion.
Drought.
Disease.
Pests.
How to Get Rid of Brown Spots
One of the first things you will need to do is identify why you have brown spots in the first place. If you are unsure of why they are there, you will find yourself constantly treating your yard without any results.
Below are some of the things you can do to improve and rid brown spots from your lawn.
Short Grass
You want to make sure that you are always mowing your lawn and keeping the grass short. The longer the blades of grass, the more humidity that becomes trapped between the blades and when this happens fungus can grow and deteriorate your grass.
Avoid Nitrogen
Avoid using nitrogen fertilizer on your yard as this promotes fungus growth. The fungus enjoys the nitrogen and feeds off of it, thus spreading to more areas of your yard.
Water
Make sure you are watering your yard on a regular basis. Without the proper water, grass will die and leave brown spots on the lawn. If you do not have a sprinkler system equipped, make sure you get out into the yard and water your lawn until all of it has received water.
Pest Control
If your lawn is suffering from pests, talk with your local landscaping company to find out what type of pest control you can use to rid the bugs. As long as the insects and pests remain, your lawn will continue to turn brown.
Keep Up with Maintenance
It is important to keep up with your lawn maintenance. If you are unable to handle your lawn care yourself, you should hire a company that can come out to your home and do it for you. Without the proper care, your lawn will begin to turn brown and then deteriorate until all of the lawn is brown.
Remember, do not get discouraged and try to combat the problem as best as possible and when you can no longer handle it, call a professional.