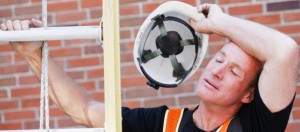 When exposed to consistent high temperatures, anyone will run the risk of experiencing heat exhaustion and dehydration. This is essentially when the body becomes overheated, and may progress to a heat-stroke if ignored for any length of time.
Although children and the elderly are more susceptible to heat exhaustion, it will effect anyone. Lawn maintenance crews, outdoor laborers, and excavator operators are examples of outdoor jobs that put workers at risk.
There are a number of tips that will help to avoid potential heat exhaustion.
1. Clothing
Wearing lightweight, loose-fitting clothing is important. Dark, tight clothing will hold in heat and make it difficult for sweat to evaporate. Wearing a wide brim hat will also help to keep a cool head and avoid sunburn.
2. Drink Fluids
If you're a contractor or lawn maintenance worker, make certain to drink plenty of fluids throughout the day. This will help to avoid dehydration. Water, fruit juices, and vegetable juice are recommended. Always avoid beverages containing alcohol and caffeine. Both will cause your body to lose valuable fluids.
3. Get Out Of The Heat
Whenever possible, outside work should be scheduled during the coolest part of the day. When this isn't possible, head for the shade during break time and rehydrate while you're resting.
4. Use Sunscreen
It's important to avoid getting sunburn, as this will reduce your body's ability to shed excess heat.
5. Avoid Hot Spots
You don't need direct exposure to the sun to cause heat exhaustion. Excavator operators who work in a closed-cab machine are just as likely to be victims. Find an air-conditioned space to bring down your body temperature if you start to feel weak or light-headed.
Prevention is the best course of action. Once you begin to experience heat exhaustion and dehydration, the ship has sailed. When this happens, it's critical to stop activity, get out of the heat, and seek medical attention when necessary.