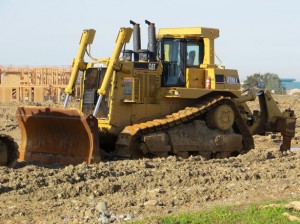 Land clearing services provide a critical first step to developers and individuals who are building on undeveloped land. By engaging a team of professionals, developers can ensure that land is cleared efficiently and safely, minimizing risks and preserving the value of your property. Whether for commercial or residential land clearing, a professional clearer manage all elements of clearing and excavation more quickly, efficiently and safely than an unskilled team of laborers could manage.
In essence, land clearing includes all the tasks necessary to transform natural terrain into land on which a developer can begin construction. Depending on the particular circumstances, the clearing and excavation process may require removal of dirt, rock and trees; demolition; excavation for water, septic and sewer systems; drainage; lot levels; foundation building; and erosion control. Without these basic services, it's impossible to move forward with any form of construction.
Hiring a professional, well-qualified clearing company can offer a number of advantages. Many companies offer services such as mulching, transforming the trees and vegetation on your property into a valuable resource. In areas where intense run-off is common, erosion control services make the property more useful and economical for years to come. An outstanding land clearing service should also be able to clear the allotted property without causing any damage to trees on surrounding areas, or outside the actual building site. This pinpointed capacity for land clearing is a particular benefit for environmentally aware builders and anyone wishing to preserve older growth trees on the property.
In addition to expertise, land clearing services are qualified and equipped to operate all of the machinery needed to adequately clear your land. Depending on the particular type of terrain, kind of vegetation present, and amount of rock requiring removal, a wide range of large-scale equipment may be needed.