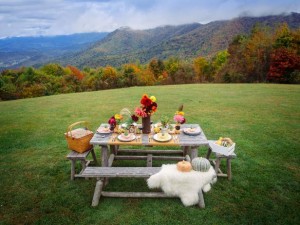 After the summer heat has subsided, it's the perfect time for outdoor entertaining. Fall is also the ideal season to get outside and perform some lawn maintenance. These are a few tips for fall yard care that will help create a beautiful lawn for autumn outside barbecues.
Determine the Grass Type
Cool fall turf grasses thrive in mild temperatures, such as rye, fescues and Kentucky blue grass. Warm season grasses grow when weather is warm and are popular in the southern states of the U.S., like Bermuda, buffalo and Saint Augustine grass. If you're not sure what type of grass is growing in your yard, take a sample to a local garden center. However, regardless of the type of grass, there is some routine lawn maintenance that needs to be done until the grass stops growing, depending on the area you live.
Regular daily watering and mowing once or twice a week is necessary for a neat, manicured lawn.
Lawn aeration is a must in order to allow for sufficient nutrient and moisture absorption. It also loosens up the soil for planting winter grass seed.
Autumn is the best time of year for applying fertilizer. All types of grass should receive a fall dose of nourishment that contains a mixture of lawn nutrients with a slow release of nitrogen, particularly if the yard is planted with a cool season grass.
Fall is a good time for over-seeding and filling in bare areas, which prevents a patchy looking lawn and promotes a lush look.
Protect the lawn from being invaded by harmful insects and weeds. Apply lawn pesticides and broadleaf weed killer. This will propose a better looking yard and prevent also help to protect guests from being bothered by pesky bugs.
Additional Tips for Fall Lawn Maintenance
Keep leaves from smothering the grass by vacuuming or raking weekly.
Never add gas or oil to lawn equipment while in the yard, because it will kill the grass if it is spilled.
If you are providing proper lawn maintenance and the grass is still not growing well, you may want to have the soil tested by a professional lawn service company.