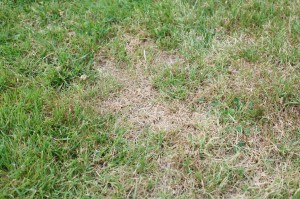 Much of the country has been experiencing drought conditions for several years now. This lack of water can make lawn maintenance difficult. For a lot of people, the American dream is a house with a green lawn and a white picket fence. With drought water restrictions being enacted, the green lawn part of that dream is quickly fading to brown. However, it is possible to practice good lawn care during these times. Here are 5 tips for keeping your lawn green and healthy when you can't water every day.
1. If possible, consider planting native grasses. Grass that is acclimated to your location already will grow well without much help from you.
2. Aerate your lawn and amending the top soil with compost to improve soil quality and allow your grass to develop stronger roots.
3. Keep grass longer to encourage deeper roots and shade the surface of the soil during especially sunny days. Set your mower to 2 1/2 – 3 inches and leave the clippings on the lawn.
4. Water long and slow on the days you can. Make sure you're not watering at too high of a volume – all the water should absorb into the soil rather than running off into the street. Water long enough so that after 24-36 hours the soil is moist to a depth of 6-8 inches, then don't water again until the grass begins to show signs of needing water. Shallow, frequent watering does not help the grass grow deep, strong roots.
5. Water in the morning before the heat of the day. This allows most of the water to make it to the soil rather than evaporating in the sun. Use a sprinkler that keeps the water as low as possible.