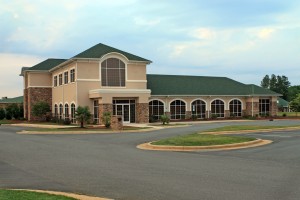 The work that goes on inside of your office building or store may be spectacular, but if the exterior of your office building or store is unattractive, passer-bys are very likely to either not notice your building or to form a negative impression of it. In order to make a good impression and capture the attention of potential clients or customers, you may need a commercial lawn care service to maintain your landscape.
One of your best forms of advertisement is the sign in front of your business. This sign should feature an eye-catching design and color scheme. Plants and flowers can draw attention to the sign, but it's essential that they don't block the view of the sign. A spotlight shining on your sign at night will provide constant advertisement.
If you have a walkway leading to the front door of your office or store, check the condition it's in. Not only are cracks in the walkway unattractive, they can be a tripping hazard for anyone using the walkway. Plants lining the walkway should not obstruct it. Keeping debris cleared off will also give people a positive impression of your business. A commercial lawn maintenance contract with a provider in your area can assure that the shrubs, trees and plants in your landscape are trimmed appropriately and are an attractive feature in the landscape design.
Commercial land clearing may involve clearing a space for your building and parking lot. When preparing for construction, it's essential that you consider how to gain the most visibility. Once you achieve that, you want to be sure that the curb appeal for your business is appealing and inviting. Think of your curb appeal as an advertising feature for your business and use it to your advantage.