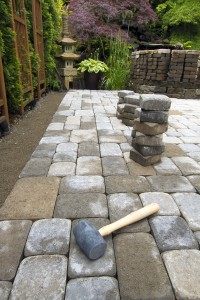 Pavers can add a special, decorative touch to any landscaping plan, whether they are used as a walkway, driveway, patio, or courtyard. With the variety of materials, styles, textures, and colors that pavers come in these days, they can be used almost anywhere.
Around the home, pavers can make a dramatic difference in the appearance of areas like your front walk and entranceway, making it stand out and adding a certain warmth to greet your guests. As part of your deck or patio, home pavers can provide a relaxed and informal feel. The use of decorative pavers for edging along driveways or sidewalks can even make those mundane features look elegant.
Pavers have a number of applications and, in commercial or municipal applications, they are used to great effect to edge lawns and green spaces. Commercial pavers are often added as trim around parking areas to make them appear more welcoming. Colors are usually used to offset the black or gray of the asphalt, so they add a decorative element as well.
If you have a landscaping plan that calls for walkways or pathways across the property, this is a prime opportunity to use pathway pavers to provide a more rustic look than plain concrete. Pavers can add a natural look and feel that you can't get with other material.
With their range of sizes, shapes, and colors, pavers can be integrated into almost any outdoor project; surrounding swimming pools, giving a carriage house an historical look and feel, giving a plaza a more open, elegant feel, or any of a number of other applications. They enhance curb appeal of your home and add to the appearance of a professional building, all at a cost-effective price.