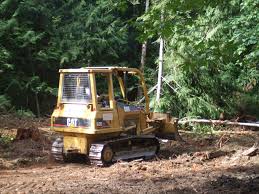 When done properly, clearing your land that your domicile sits on is a thankless job. There are no parades for clearing stumps from your yard. Frequently the rub comes in when an amateur does what the professionals should be doing. The many ways to go wrong rob you off time, money, and perhaps even having to do the same job twice. Before the do it yourself warrior embarks on this misstep, they should place a call to bring out a professional for any residential land clearing project.
Safety for People and Places
Land clearing safety is the prime consideration for people, property, and other assorted objects. From simple tree removals to more complex projects like preparing the ground for a new driveway, the experienced tradesman will already be familiar with the process. They will succinctly be able to summarize all the time, manpower, and expenditures to get the job done safely. Most importantly, they will be familiar with all the code so that it will pass inspection the first time on the occasions when the home must sell. In the end, the small investment in consulting with the professional may save you more than if you were to do it yourself. It could free up your time for additional endeavors.
Customer service is the other factor in determining what company is perfect for you. Did they take the time to listen to all your requirements before trying to up sell you? Are their representatives timely and keep within the allotted project time? These are just a few of the aspects of the transparency needed in a residential land clearing company. Settle for nothing less and give the company that fits this bill a call right away.