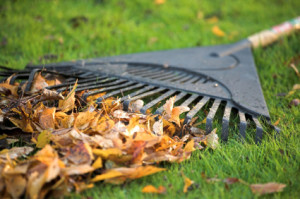 The leaves are changing, the mercury is dropping, and the days are getting shorter; there's no doubt that fall is upon us. Most homeowners take fall as an excuse to forsake all lawn maintenance, but this is a mistake. Shirking responsibilities now can lead to diseased grass, overgrown weeds, and a poor looking lawn come next spring. In fact, now that the weather is cooling, this is perhaps the best time to tackle some gardening problems. Just a little work can ensure a healthy and vibrant lawn next year.
This could be a great time to fertilize or reseed dead portions of your lawn. Just make sure you get a start before the ground freezes.
Remember, stubborn weeds won't necessarily take a break just because the weather changed. Either pull them out or spray them with weed killer.
To help keep grass healthy, set your lawn mower a little shorter than normal and cut your grass one last time after it's stopped growing.
Leaves either need to be removed or mulched to prevent harm to your lawn. If you'd like, bag the leaves and save them for a compost pile next spring.
If you live in a warmer climate, make sure to keep watering your lawn during dry spells. Just because the grass isn't growing doesn't mean it can survive a drought.
If you have any land clearing to get done, this may be the perfect season. Some landscaping companies specialize in residential clearing to help take the work off your shoulders.
Finally, make sure to inspect your lawn for thatch (excess dead material). If your lawn has too much, then you'll need to take steps to eliminate it.