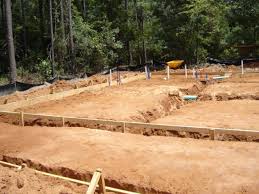 When planning on building a new home, the very first step is to "break ground" and clear the land. Site preparation is extremely important, as this is where the foundation of your home will be built. After you have selected the perfect lot for your new home and have prepared a site plan, it's time to prepare the ground for building. Because there is a lot that goes into land clearing, it is important to choose wisely when selecting a reliable excavation company. Professionals in this field will understand the ins and outs of land clearing and things that may need to be done in order to level out the ground.
Site preparation for a new home includes clearing away trees from the building site, completing rough grading that may be necessary and staking the location where the home will be built for easy installation of the foundation and footings. An experienced residential land clearing company will be able to work with you to meet all of your wants and needs. For example, you may choose to keep some trees that the land clearing must be done around. Other things that will be taken into consideration when clearing the ground include well and septic tank locations, distance to utility line hookups, your relationship to other homes in the area, topography, setbacks and more.
Because there is likely to be a great deal of debris after clearing the land, the residential land clearing company is able to conveniently haul it all away for you. If your new home will have a basement, not only will the land need to be cleared, but it will also need to be excavated. Because this can be very time consuming and can leave you with large amounts of left over dirt, you'll want to select a land clearing company that not only clears that land, but that will also excavate it for you. By taking advantage of these services, you are making the home building process a lot easier and much more efficient from the very beginning.