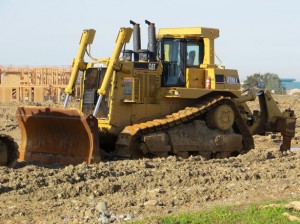 For those home or business owners who are considering improvements to their property, hiring professional contractors will be required. Whether the project involves land clearing or excavation, hiring professionals offers peace of mind knowing that the right equipment will be used and the job will be done safely and effectively.
Before hiring a company to handle site work, it's important for home and business owners to understand the fundamental differences between excavation and grading.
Whether a project is commercial or residential, site work will be necessary in order to make improvements or prepare for scheduled construction. For wooded properties, this means starting with land clearing. Commercial and residential land clearing involves removing and processing trees and associated growth in order to prepare for further site work.

Once a property has been cleared, contractors can begin the excavation process. In a nutshell, excavation means moving earth. Whether it's preparing for a road, driveway, or foundation site, excavating contractors will remove stumps, boulders, organic material, and anything that might get in the way of improvements.
Once excavation has been completed, contractors have a good starting point to begin other projects, and this is where residential and commercial grading come into play. Now that stumps, rocks, and other obstacles are not an issue, the property can be leveled and contoured to accommodate further construction.
When considering a driveway, for example, residential grading would be used to level and shape the driveway to provide a safe and well engineered surface to drive on.
From residential and commercial land clearing to excavation and grading, the process is a simple progression that prepares property for commercial and residential use. Whether it's excavating a foundation to build a new home, or grading the landscape to prepare for an expansive yard, both require an experienced contractor to ensure the job is done correctly.