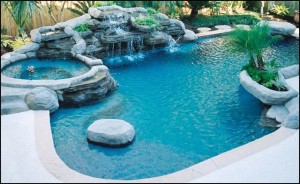 The cost of removing a swimming pool varies. Usually, it is determined by the procedures that must be implemented.
A typical pool removal process involves removing the pool deck. Then, workers drain the pool by punching holes in the liner. At this point, the pool can be backfilled, and other landscaping material can placed in the empty spot. This removal process is the cheapest option.
Though, in situations where future building is planned, workers will need to destroy the pool structure. Usually, they bury the materials in the ground if local laws allow it. Because destroying and hauling require a lot of labor, homeowners usually pay about $10,000 for this kind of removal project.
Swimming Pool Removal Workers Use The Safest Demolition Equipment
A swimming pool has a solid concrete surface that is usually 12 inches thick. The structure is also reinforced with rebar. To destroy the material effectively, an excavator that has a Jack Hammer attachment must be used. An excavator is an efficient demolition tool because workers can use the device while stationary, and they can turn the turret while they work. It is a safe device because workers can stand 10 feet from the concrete as it breaks.
Professional demolition workers never destroy concrete with a Skid Steer that has a breaker attachment because it is dangerous. The device will tip over because it is not designed for over head construction tasks.
Although a Skid Steer is not an ideal demolition tool, it is a great concrete and dirt removal tool. By using the grapple attachment, the Skid Steer can safely move dirt and debris out a swimming pool. A Skid Steer can also move debris from a pool cavity. For this task, a bucket attachment is required because it spreads the material evenly.
Overall, if you hire a company that provides safe and resourceful demolition services, your pool will be removed successfully without any risks.