Your patio should be a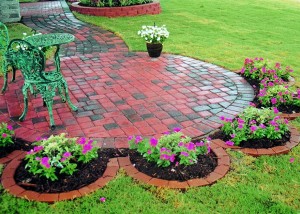 oasis, where you can enjoy the outdoors without traveling far from the comforts of home. Keeping your patio in top condition should be a part of your normal residential maintenance routine.
Patio Cleaning Tips
Most patios are made of concrete or brick pavers. Concrete pads require regular sweeping and occasionally scrubbing, either with water and a deck brush or with a pressure washer.
Skip the pressure washer when cleaning brick, though. Regular sweeping combined with washing with a masonry cleaner every two or three years should keep them looking good. You may also need to add fresh sand to the joints on an annual basis as part of your patio maintenance routine. If the joints begin to sink, weeds may invade. Sealing the bricks and joints can help minimize both weed and moss growth.
When to Remodel
Sometimes even a good cleaning won't help your patio work better. Here's how to know when it's time for a makeover:
It's developed unsightly cracks and damage. Cracked, flaking concrete or uneven areas aren't easily camouflaged. Full replacement of the old patio pad is a better option for an instant facelift.
You're living with someone's bad decision. Did the previous owner try and upgrade with paint or stain and now it's looking dated? A makeover can bring your patio back into the present decade.
You've run out of room. It's time to upgrade your patio when your patio furniture and entertaining areas are spilling out into the lawn. There's no reason that you have to live with a too-small patio.
A patio remodel improves the appearance and value of your home, all for a minimal cost. You'll enjoy your yard more if you have a patio you love.