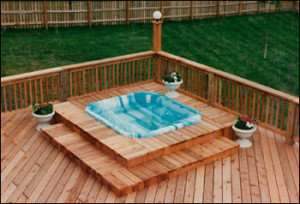 To create a slice of heaven in the backyard with a hot tub and a deck, a few simple things must be done. The biggest thing is to make sure to have residential maintenance done to the yard. The pipes that go into the hot tub must be placed on level ground. To do this, it is recommended that an expert residential maintenance specialist perform ground leveling services before the hot tub is installed. Leveling the ground is necessary for a couple of key reasons; to prevent flooding and to maintain proper drainage. A deck is easier to build when it is on level ground. Starting with an even surface makes the entire build process go faster and smoother.
Once ground grading is complete, the hot tub installation can begin with underground pipes and decking. When the foundations for both are laid out and installed, the rest of the framework can be installed on a level surface. Keeping a level surface also ensures that water does not get forced against the foundation of the house causing bigger problems down the road. When the decking foundation is laid, the hot tub and other features like stairs can be added to the framework of the deck.
Hot tub benefits are plentiful, not only for relaxation, but overall health and general wellness. People who have a way to relax after working tend to have lower blood pressure, a better weight, and fewer headaches. The hot tub is also perfect for people who suffer from chronic conditions like arthritis, fibromyalgia, and stiff muscles. Using a hot tub after exercise keeps muscles limber and helps prevent the pain created from lactic acid that builds up in the muscles. Overall stress reduction is the greatest benefit of all keeping owners happy and healthy throughout the entire year.