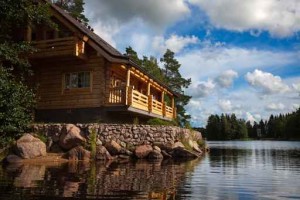 Buying a vacation home can be a dream come true. But clearing the land to prevent soil erosion can become a nightmare experience. Unless you are skilled in landscape management and erosion prevention, this may be a task better left to the professionals.
Commercial land clearing is an important consideration when buying a vacation home, especially one located near a lake or river. The entire area, if headed for development, may need to be leveled to avoid ditch drainage, erosion, and water accumulation. The land can become marshy and soggy, unfit for building. Eventually, buildings could begin to gradually sink if the land has not been cleared or leveled properly.
A property situated near a low-lying body of water is likely to need some type of lawn grading to prevent land erosion on the property site. Residential land clearing is required to even the soil so that it is stable for building a home that does not trap moisture in or around the foundation. Adequate drainage is necessary so the downhill water flow doesn't seep into the home's foundation or structure but is rather diverted around it toward a downward slope away from the property.
Heavy rain or snow can lead to accumulated water saturation that can be damaging to a vacation property. Landscape experts can ensure the property is treated so that proper drainage keeps the soil stable. Before buying a vacation home, it is a good idea to get an estimate of what type of draining or leveling is needed to prevent erosion before investing in the property. Water seepage can be a costly repair and a lot of work, which is not the purpose of a vacation getaway.