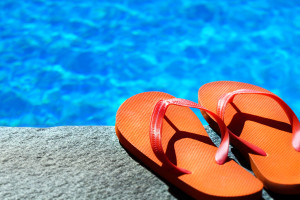 Though swimming season might still be a few months away, now is the ideal time to perform general pool maintenance tasks and to inspect your pool for any problems that may need to be fixed before the pool can be used. Over time, pools can develop a variety of problems from cracks and leaks to issues with pumps and filters. Finding those problems now gives you plenty of time to correct them before pool season starts.
Cleaning
After sitting dormant over the winter, a pool will need a thorough cleaning to remove sediment and any contaminants that fell into the pool. There are a variety of swimming pool products that are designed to help clean and preserve a pool. By getting the pool clean, it will be easier to see any problems that need to be addressed.
Filter Check
Before filling the pool and running the filter, you should check the filter to make certain it is clean and ready for use. You should check the sand or cartridge filter according to manufacturer recommendations and inspect the pipes and housing for cracks. Pool filtration systems should be checked before pool season and as a normal part of your swimming pool maintenance routine. Once the pool is filled and the filtration system turned on, the system should be carefully observed for leaks that may have developed.
Chemical Balance
Another key part of home swimming pool maintenance is maintaining the chemical balance in the water. Not only is the chemical balance important for keeping the water clear, it is also important for making certain that the water is safe for both swimmers and pool itself. Improper pH levels can actually cause accelerated corrosion to many pool components. Home test kits should be used to make certain that the pool water is at proper pH and chlorine levels.