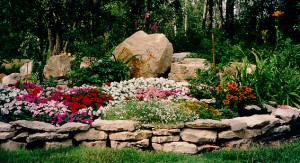 The concept of green landscaping today has a different connotation than its counterpart of several years ago. The green landscapes that were popular among homeowners featured velvety soft lawns and lush, verdant shrubs, trees, and perennials that were raised in hothouse environments and needed significant babying in order to retain their vigor and good lucks. Today, however, green landscaping means using energy saving plants that have drought-resistant properties or are otherwise acclimated to the specific growing conditions in the region where they are planted. This most often means using native plants rather than nursery-grown hybrids.
Energy saving landscapes have become extremely important in parts of the world that are experiencing serious water shortages. For instance, homeowners in California rely on energy saving ground cover plants to take the place of resource-intensive lawns that need to be well-watered on a regular basis. If you are curious about what types of plants might work best in your particular area, your local landscaping professional should be able to provide you with inspiration and assistance.
Besides providing you with significant savings on utility costs, green landscaping will help create a healthier environment, particularity if you use native plants. Native plants are already accustomed to your local soil and precipitation conditions, and they will also have a natural resistance to area insect pests and plant pathogens. Because of this, there will be no need for chemical fertilizers and pesticides, which will help prevent your groundwater from becoming contaminated. It will also provide food for beneficial insects and birds, contributing to a vibrant and diverse local ecosystem.
Landscaping with energy saving plants will also decrease the amount of work that you have to do in order to maintain and attractive outdoor living space, leaving you with more leisure time in which to enjoy your home environment.