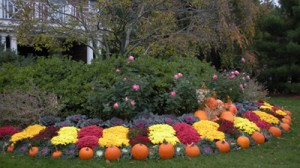 To create a natural setting for homes and increase curb appeal, planting a mixed variety of landscaping shrubs and plants including flowering perennials will add much beauty and value. The greenery and color provided by these plants, add visual impact throughout the year and, as an added benefit thorny shrubs can be used as a barrier to deter thieves. Both commercial landscaping and home landscaping will have this added advantage when thorny shrubs and bushes are incorporated in the foundation planting near windows.
Rose bushes are a diverse group of shrubs that the homeowner will enjoy for the myriad of colors, scents and thorn barrier that provides a natural home safety feature. The most popular and easiest to grow roses are called shrub roses. They are hardy to zone 5 and some thrive in the colder zone 4. The popularity of the shrub roses lies in their ease of care. Most of the newer rose species have been bred to be mostly disease free, they bloom throughout the growing season, and color and fragrance choices abound.
Barberry is another shrub that is both attractive and, with strategic placement outside ground floor windows, this shrub will act as a deterrent to burglars. The foliage of the Barberry bush is attractive with colors from the commonly seen purple to lighter green. It is easy to find the perfect variety of Barberry for your home or commercial landscaping project. These bushes require very little pruning and are very drought tolerant.
A few other options for thorny or prickly bushes are Pyracantha and Flowering quince. The lovely Pyracantha shrub boasts both gorgeous berries in the fall and lovely flowers in the spring. Flowering quince will burst forth with a profusion of flowers in the spring and is a fast growing hedge.