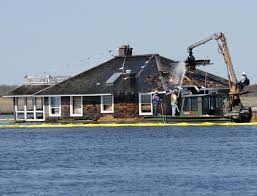 Preparing for home demolition goes beyond removing the furniture and fixtures. There are actually several steps that should be taken to salvage potentially valuable items from the property before the structure is torn down. Whether you are planning a home demolition or commercial demolition, here are a few demolition preparation tips to keep in mind.
Recycle
Copper tubing is one of the interior valuable items that may be recycled before a structure is demolished. Check with local recycling companies to find out what they are paying for this commodity and any others that may be found inside the home.
Repurpose
Inspecting a house before tearing it down can reveal some valuable treasures. For example, historic doors or intact windows can be removed and either refinished or reused in their current condition for redecorating your home or selling online. Buyers love finding older items like these that can add a piece of history to a house from a similar time period or simply function as a decorator piece.
Deconstruct
A deserted structure may still have a few valuables to take apart or deconstruct, such as antique bricks from the basement or chimney and sidewalk slabs from a bygone era. Old faucets that are still in good condition can be removed, along with wall sconces, stair rails, and other odd pieces that are serviceable for other locations. Light fixtures and floorboards can be removed, along with wall tiles and fireplace mantels. Many people are looking to buy things like this that are otherwise hard to find.
It is always a good idea to take a final walk-through in a home or office that is slated for demolition. Although at first glance it may seem bare and empty, a second look may lead to the discovery and recovery of valuable commodities.