Blog // Browsing posts in Blog
Recycle, Repurpose, Deconstruct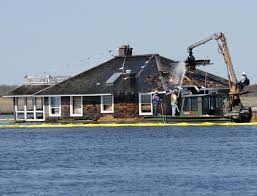 Preparing for home demolition goes beyond removing the furniture and fixtures. There are actually several steps that should be taken to salvage potentially valuable items from the property before the structure is torn down. Whether you are planning a home demolition or commercial demolition, here are a few demolition preparation tips to keep in mind.
Recycle
Copper tubing is one of the interior valuable items that may be recycled before a structure is demolished. Check with local recycling companies to find out what they are paying for this commodity and any others that may be found inside the home.
Repurpose
Inspecting a house before tearing it down can reveal some valuable treasures. For example, historic doors or intact windows can be removed and either refinished or reused in their current condition for redecorating your home or selling online. Buyers love finding older items like these that can add a piece of history to a house from a similar time period or simply function as a decorator piece.
Deconstruct
A deserted structure may still have a few valuables to take apart or deconstruct, such as antique bricks from the basement or chimney and sidewalk slabs from a bygone era. Old faucets that are still in good condition can be removed, along with wall sconces, stair rails, and other odd pieces that are serviceable for other locations. Light fixtures and floorboards can be removed, along with wall tiles and fireplace mantels. Many people are looking to buy things like this that are otherwise hard to find.
It is always a good idea to take a final walk-through in a home or office that is slated for demolition. Although at first glance it may seem bare and empty, a second look may lead to the discovery and recovery of valuable commodities.
More Than Just a Pretty Face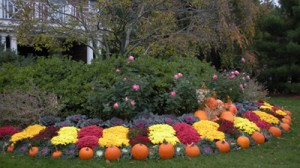 To create a natural setting for homes and increase curb appeal, planting a mixed variety of landscaping shrubs and plants including flowering perennials will add much beauty and value. The greenery and color provided by these plants, add visual impact throughout the year and, as an added benefit thorny shrubs can be used as a barrier to deter thieves. Both commercial landscaping and home landscaping will have this added advantage when thorny shrubs and bushes are incorporated in the foundation planting near windows.
Rose bushes are a diverse group of shrubs that the homeowner will enjoy for the myriad of colors, scents and thorn barrier that provides a natural home safety feature. The most popular and easiest to grow roses are called shrub roses. They are hardy to zone 5 and some thrive in the colder zone 4. The popularity of the shrub roses lies in their ease of care. Most of the newer rose species have been bred to be mostly disease free, they bloom throughout the growing season, and color and fragrance choices abound.
Barberry is another shrub that is both attractive and, with strategic placement outside ground floor windows, this shrub will act as a deterrent to burglars. The foliage of the Barberry bush is attractive with colors from the commonly seen purple to lighter green. It is easy to find the perfect variety of Barberry for your home or commercial landscaping project. These bushes require very little pruning and are very drought tolerant.
A few other options for thorny or prickly bushes are Pyracantha and Flowering quince. The lovely Pyracantha shrub boasts both gorgeous berries in the fall and lovely flowers in the spring. Flowering quince will burst forth with a profusion of flowers in the spring and is a fast growing hedge.
A Truly Green Landscape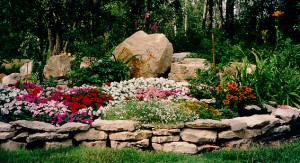 The concept of green landscaping today has a different connotation than its counterpart of several years ago. The green landscapes that were popular among homeowners featured velvety soft lawns and lush, verdant shrubs, trees, and perennials that were raised in hothouse environments and needed significant babying in order to retain their vigor and good lucks. Today, however, green landscaping means using energy saving plants that have drought-resistant properties or are otherwise acclimated to the specific growing conditions in the region where they are planted. This most often means using native plants rather than nursery-grown hybrids.
Energy saving landscapes have become extremely important in parts of the world that are experiencing serious water shortages. For instance, homeowners in California rely on energy saving ground cover plants to take the place of resource-intensive lawns that need to be well-watered on a regular basis. If you are curious about what types of plants might work best in your particular area, your local landscaping professional should be able to provide you with inspiration and assistance.
Besides providing you with significant savings on utility costs, green landscaping will help create a healthier environment, particularity if you use native plants. Native plants are already accustomed to your local soil and precipitation conditions, and they will also have a natural resistance to area insect pests and plant pathogens. Because of this, there will be no need for chemical fertilizers and pesticides, which will help prevent your groundwater from becoming contaminated. It will also provide food for beneficial insects and birds, contributing to a vibrant and diverse local ecosystem.
Landscaping with energy saving plants will also decrease the amount of work that you have to do in order to maintain and attractive outdoor living space, leaving you with more leisure time in which to enjoy your home environment.
Is It Mold?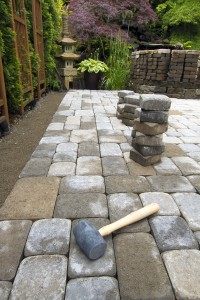 Spring is here delivering the beauty and bounty of green grass, fresh flowers, and numerous other wonders of new life and it is also the time for excessive water from melting snows and spring rain showers. Although this is beneficial to the growing things around a home, it is also the makings for problems with flooding and mold & mildew growth. To ensure safety of your structure and the health of your family, it is important to know what mold and mildew are and how to eliminate these dangers.
Mold is a type of fungus that thrives and grows in moist dark environments on organic materials. You can find this along walls, floors, window sills, corners, and ceilings in areas where dampness is problematic. The color of this growth may be white, orange, green, or black.
When a home mold detection uncovers any of this discoloration, it is imperative to eliminate this threat immediately. It is important to hire a professional mold cleanup specialist to ensure the complete removal of the mold detection issues.
Mildew is the condition caused by excessive moisture resting on natural materials such as plants, wood, leather, or paper. This type of mold often produces a musty smell when in a closed in room or area. This type of home mildew detection is often easily cleaned with commercial mildew cleaners or bleach.
The cleaning agents for treating mildew are effective, but often messy and they may discolor the area. Professionals in the area of mildew detection are able to remove this health threat easily and safely.
For complete and guaranteed removal of all of the unhealthy components that a technician finds in a mold detection check, it is important that a professional mold detection specialist treat the affected areas. A quick mold detection check of the damp areas of your home will keep you on top of the situation.
Environmental Hazards and Your Business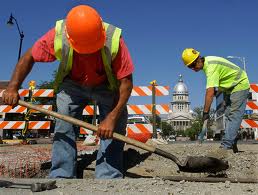 For anyone who owns a commercial property, you know just how important it is for you to keep the entire area as safe and secure as possible. If you're dealing with a lot of hazardous waste, it is absolutely essential that you get rid of these things to provide your workers and clients with a safer place to visit. The truth is that hazardous materials can cause a lot of problems, from slips and falls to issues concerning your workers' safety and health.
Considering the overall removal of hazardous materials will help to clean up your property and keep it entirely safe.One of the first steps you'll want to take as someone who owns a commercial property is to consider an inspection for hazardous materials on commercial property or building. The inspection will be done by a professional who can specifically look for things on your property that might pose a risk or danger to anyone who happens to be working or walking around it. Once the inspection has been done, you will have a list of anything there that should be removed in order to prevent problems and a possible lawsuit on your own part.The disposal of hazardous materials means more than just getting rid of something that might just look bad, it can help to make your property safer and even prevent you from being hit with a lawsuit if someone gets hurt while they are on the property itself. The most important thing is to have that initial inspection done to find out exactly what is on the property that should be removed. Once this is finished, you will want to consider having the disposal of hazardous materials done by a professional company in a quick, efficient and highly affordable manner in order to benefit from them.
Home Safety & Land Clearing in Melbourne, Florida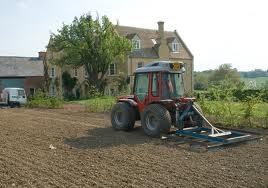 When it comes to projects around the house, homeowners must consider whether it makes more sense to do the work themselves or hire a contractor. Often, the decision comes down to whether the job can be done safely without special skills and equipment. One of the best home safety tips when clearing land may well be to turn the job over to a contractor whose expertise includes land clearing services. If the project involves tree removal, it is important to keep in mind that logging is one of the most dangerous occupations in existence. Homeowners must keep in mind that using conventional land clearing methods will expose them to many of the same hazards found in the logging industry. This makes a good case for outsourcing the work.
One of the most obvious concerns when clearing land is the potential to be struck by falling tree limbs or even trapped under falling trees. In addition, without a sure method for ensuring the tree falls in the right direction, significant property damage could occur. Once the tree is on the ground, it must be cut into smaller sections and removed. Even relatively small sections can be heavy enough to cause a back injury without the proper equipment.
Other issues with which homeowners may be confronted include insects and snakes. This issue is even more concerning if one of the individuals doing the work is allergic to bee stings. Bees are known to have nests in trees, bushes and even in the ground. An encounter can easily turn into a very unpleasant surprise. Land that needs to be cleared is also good habitat for snakes. While many snakes are harmless, there are a number of poisonous ones that could be present as well.
Clearing land can also expose individuals to vegetation like poison oak, poison sumac or poison ivy. These plants are often found around trees or bushes and can easily go unnoticed because they blend in with their surroundings. Consequently, one of the best home safety tips may very well be to hire a contractor.
Benefits of Topsoil Use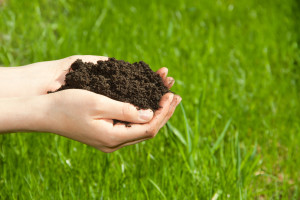 Anyone who has had lawn, garden, or basement moisture issues may want to consider applying topsoil to their property. Topsoil offers a number of advantages that can keep a property's soil more functional and free of problems, as well as enhance its overall value.
Level out a lawn
Topsoil can be used to level out pits, gullies, ditches, and dips in the topography of a property's lawn. Lawn grading by evening out the top level of soil makes the lawn easier to care for, including mowing, fertilizing, and treating weeds or pests. A neat lawn is enjoyable for tenants and appreciated by neighbors.
Evenly grade the property
Buying a lot for building purposes may require some evening out of certain areas before construction. Applying topsoil helps to create an even surface on top of fill dirt that makes residential land clearing easier when constructing a home or commercial land clearing for business development. Topsoil also facilitates the addition of landscape later in the project.
Prepare a garden
Whether planning a flower garden or vegetable garden, topsoil usage helps to establish a well-manicured area for smooth planting, tending, and with vegetables, harvesting. Keeping the area balanced leads to faster, more efficient gardening work.
Prevent erosion
Adding topsoil to any type of ground can help to prevent lawn erosion or general property erosion. Topsoil can be laid between trees to stabilize a boundary line, or it can be used around a home's foundation to keep land from washing away during heavy rain and dripping into the foundation or basement.
Topsoil protects and enhances property in many ways like those indicated above. At reasonable cost with minimal effort, it is a good investment for maintaining and extending a property's usage.
What is A Leach Field?
A leach field, simply put, is the area where water within a septic system drains back into the soil of the building where it is located. Leach fields are attached to septic systems which are used when there are no city sewer facilities. These systems can be residential or commercial. When done properly they will work for many years. When not done properly they can cause lawn erosion.
Septic Systems And Leach Fields
Whenever liquids go down any drain in a building without a sewer hookup they go into the septic system. These systems have a tank for solids where the solids will break down over time. The liquids continue their journey and are dispersed through a series of pipes which have small holes and are laid on top of gravel. The liquids disperse through these pipes and into the ground. This is called a leach field as the pipes are generally spread out over at least ten square feet and the pipes are laid in lines next to each other. Some systems are linear but the concept is the same.
Land Clearing
Whenever a home or commercial building is constructed with a septic system land clearing is a major factor. Trees cannot be allowed to grow near a leach field as they will interfere with the safe dispersal of these liquids. Commercial land clearing is necessary for clearing an area when a business is involved. The leach field for a business is much larger and spreads further. A residential land clearing company can efficiently remove trees for a residential leach field.
Lawn Grading And Erosion
The purpose of a leach field is safe water dispersal. The lawn of a building may need grading to ensure the leach field has sufficient soil in order to work properly. Some counties require a mound of dirt over an elevated leach field. This is due to local drainage issues. Hiring a professional to properly grade a lawn in the area of a leach field will prevent lawn erosion. It will help to maintain the proper function of the leach field.
Leach fields are a necessary part of any septic system. Proper installation requires a large enough leach field to handle the volume of liquids as well as tree clearance to stop tree roots from invading the field. Proper lawn grading prevents soil erosion in the leach field area.
Recycle, Recycle, Recycle: Properly Disposing of Construction Materials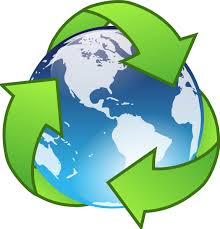 Remodeling the home or business can be an exciting process as you create that perfect look. While the idea of new appliances, floor coverings and/or windows is fresh in the mind, have you given thought to what to do with the old products? Many of these items could have a second life if you recycle them properly. Many good and reusable items can come from construction salvage. Although it's good for the environment, the activity of recycling waste from remodeling can go far beyond saving the planet.
Helping Others
During a remodeling project, old appliances and original construction materials could litter the landscape. Instead of throwing all products into a dumpster, taking the time to separate and properly recycle materials can help others achieve their own goals. In many situations, people could be interested in your scrap materials and may offer to buy or remove the items for you. This could promote a quick method for demolition product recycling as these individuals may need a few pieces of glass, wood or drywall to complete their own objectives.
By properly recycling construction materials, you can help individuals and businesses keep costs low by offering alternative building materials without the high price tags. For instance, residential land clearing could be conducted collecting broken glass or wooden pieces that may be reused for smaller projects. A large piece of glass could be kept out of a landfill by having a second life as a small bathroom window or a windowed desk cabinet door.
Construction can create a large amount of waste that could find it's way into the trash. However, proper recycling such as conscientious commercial land clearing and a tentative plan for keeping old products separated can help others while helping the environment. It can be a win-win situation for all involved if you take a moment to recycle the waste.
Going Green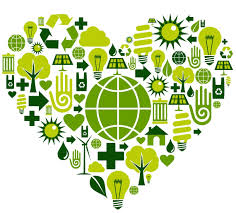 People are increasingly looking for ways to maintain a healthy home and environment. They want to eliminate exposure to mold, carbon monoxide, and radon. They also seek to protect their children, property, and pets from the harmful effects of toxic pesticides, herbicides, and fertilizers. Property owners are pursuing the expertise of eco-friendly companies to clear land and properly dispose of debris.
ECO-FRIENDLY COMMERCIAL LAND CLEARING
Eco-friendly commercial land clearing involves removing trees and brush without the use of the three "B's" – bulldozing, burning, and burying. These methods are destructive to the environment.
Bulldozing – This destroys topsoil and the roots of grass and plants. It creates deep holes that cost a fortune to fill. It also results in erosion problems.
Burning – This method runs the risk of triggering forest fires. Burning torches the land several inches down, killing the nutrients, oxygen, and microbes needed by plants to survive. The heat and smoke resulting from burning can singe and choke surrounding trees. The damage caused by burning can take more than three years to repair.
Burning also impacts human health.
Ash – Particle pollution is created by leaf burning, resulting in ash. This can lodge within the lungs and trigger heart attack, cardiac arrhythmia, and respiratory disease. Ash worsens symptoms of asthma, bronchitis, and emphysema. Ash may contain metals since plants can absorb them from soil and water. Cadmium can cause kidney and lung disease. Mercury can damage the kidneys and nervous system. It can also cause developmental delay in children. Chromium harms the respiratory system and can be carcinogenic.
VOC – Volatile organic compounds, abbreviated "VOC," are also released by burning leaves. These can create difficulty breathing, especially in those with existing respiratory disease such as asthma.
Carbon Monoxide – When leaves are burned and not entirely incinerated, carbon monoxide is produced. It is absorbed by the bloodstream, reducing the body's oxygen supply.
Burying – The disadvantages of burying debris are:
Significant space is needed.
Environmental monitoring is required.
Contamination may result.
Predators may be attracted.
Rodent control is required.
Hauling – Hauling away plant debris is costly. Eight truckloads of brush can be reduced to one load of residue through shredding or chipping.1/ Hauling involves increased expenses for labor, transportation, and disposal.
ECO-FRIENDLY LAND CLEARING EQUIPMENT
Forest Tree Mulchers – A forest tree mulcher is an effective green alternative to bulldozing, burning, and burying. This type of machine clears brush, stumps, and trees by grinding them into mulch. It exerts low ground pressure. A forest tree mulcher preserves top soil and grass roots, minimizing environmental damage. Surrounding trees and land are also protected. There is no damage to roots of neighboring trees. Mulch supplies nutrients to soil and promotes moisture retention. There is no disruption to wildlife. A forest tree mulcher is the most earth-friendly land clearing method currently available. It is also economical, eliminating the cost of re-building and cleaning up.
Horizontal Grinders – A horizontal grinder promotes efficiency on a large tree-clearing job. It enables on-site processing of trees and stumps. The resulting chips can be spread over soil for erosion control.
ECO-FRIENDLY COMMERCIAL LAWN MAINTENANCE
Eco-friendly commercial lawn maintenance involves using alternatives to toxic chemicals. Choose a company that will:
1. Leave grass clippings on the lawn and let them decompose, which produces a natural fertilizer.
2. Mow grass to a height of 3 inches. Taller grass has a greater leaf surface and deeper roots, which can result in less weed growth.
3. Perform a soil test to determine what your lawn requires in terms of nutrients, organic matter, and pH adjustments. Soil testing will reveal how much nitrogen, phosphorus, potassium, lime, and sulfur are needed. Too much phosphorus and nitrogen are harmful to lakes, oceans, rivers, and drinking water. Other excessive nutrients can reduce drought tolerance, increase vulnerability to insects and disease, and even kill grass by burning roots and foliage.
4. Use organic fertilizers. Examples are alfalfa meal, poultry meal, and composted manure. These naturally contain small amounts of phosphorus. Organic fertilizers also:
improve the growth of roots
stimulate beneficial soil life
reduce drought stress
promote the safety of pets and children
5. Aerate the lawn. Compacted soil inhibits the growth of grass.
6. Use natural fungicide for treatment of mushrooms and other fungi.
7. Sow turfgrass species known for high quality, density, stress tolerance, fewer pest problems, less water needs, and lower nutrient requirements.
8. Use compost as a soil amendment. The fiber in compost promotes moisture retention and aeration. It also increases the growth of beneficial soil microbes.
9. Use electric mowers versus gas-powered machines.
Customer Support of Eco-Friendly Lawn Care
In addition, you can support eco-friendly commercial lawn care by conserving water. The following practices will help achieve this:
1. Water grass in the early morning to minimize evaporation. Water deeply to 1 inch. This encourages the growth of deep roots and increases drought tolerance. Use the following types of sprinklers:
oscillating – for a square or rectangular lawn
impulse – for a round or curved lawn
2. Be happy with a less-than-perfect lawn. Take the pressure off yourself. Your lawn doesn't have to look like a golf course. A "good-enough" lawn results in less waste of natural resources.
ECO-FRIENDLY RESIDENTIAL CLEARING
Residential land clearing may be done to expand a yard or outdoor living space. It can also involve clearing land as a preparation for building. Residential land clearing includes removal of brush, trees, vines, and thorns. As with commercial operations, forestry mulching is the eco-friendly method of choice. Mulchers grind trees and stumps flush with the ground and deliver a nutrient-rich mulch to the soil.
ECO-FRIENDLY SNOW REMOVAL
You can support eco-friendly snow removal by choosing a company that uses snow and ice management with minimal environmental impact. Such companies fuel their vehicles with bio-diesel and recycled vegetable oil. They use ice melt products that don't damage property.
ECO-FRIENDLY DEMOLITION
Demolition of a home may be a cheaper alternative to renovating an existing home. The cost of a major renovation can outweigh that of demolishing and re-building. A demolition can be partial or full. A partial demolition may involve knocking down part of a structure or leaving up a certain wall. In this way, the original charm of a home can be retained. Demolition work can also involve asbestos removal and clearing land of vegetation.
A demolition company must be responsible to:
protect nearby property and structures
ensure the area remains safe
arrange for disposal or salvage of demolition waste
A company performing eco-friendly demolition will use the following practices:
Maintain equipment to manufacturer specifications for optimal performance.
Turn off equipment versus idling to reduce emissions.
Use low-emission fuel and fuel additives.
Properly dispose of hazardous waste such as fluorescent bulbs, paint, aerosols, petroleum products, and electronic waste. These items are appropriately brought to Materials Recovery Facilities (MRFs).
Recycle concrete, wood, and metal removed from property.
ECO-FRIENDLY DEMOLITION PRODUCTS
The following green products are used by eco-friendly demolition companies:
Rip Rap – This is a permanent erosion-resistant layer of stones. It protects soil from erosion in areas of run-off. It is used for slope and storm drains.
Surge Rock – This rock is 3 to 8 inches in size. It stops soil erosion and is used around drainage pipes and ditches.
Natural Wood Mulch – Derived from 100% natural wood, this is used to control weeds, maintain soil moisture, and reduce erosion.
Top Soil – This is specially screened to eliminate rocks and is used as a dressing on landscape areas that will be sodded or seeded.
GET ON THE GREEN BANDWAGON
By getting on the green bandwagon, people are protecting the lives of their loved ones as well as the environment. It's a wise investment in the future for our children and our precious earth. Join the movement and reap the benefits of a healthier life!