Land Clearing // Browsing posts in Land Clearing
More Than Just a Pretty Face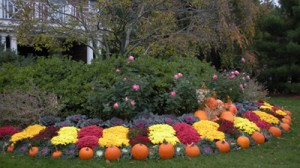 To create a natural setting for homes and increase curb appeal, planting a mixed variety of landscaping shrubs and plants including flowering perennials will add much beauty and value. The greenery and color provided by these plants, add visual impact throughout the year and, as an added benefit thorny shrubs can be used as a barrier to deter thieves. Both commercial landscaping and home landscaping will have this added advantage when thorny shrubs and bushes are incorporated in the foundation planting near windows.
Rose bushes are a diverse group of shrubs that the homeowner will enjoy for the myriad of colors, scents and thorn barrier that provides a natural home safety feature. The most popular and easiest to grow roses are called shrub roses. They are hardy to zone 5 and some thrive in the colder zone 4. The popularity of the shrub roses lies in their ease of care. Most of the newer rose species have been bred to be mostly disease free, they bloom throughout the growing season, and color and fragrance choices abound.
Barberry is another shrub that is both attractive and, with strategic placement outside ground floor windows, this shrub will act as a deterrent to burglars. The foliage of the Barberry bush is attractive with colors from the commonly seen purple to lighter green. It is easy to find the perfect variety of Barberry for your home or commercial landscaping project. These bushes require very little pruning and are very drought tolerant.
A few other options for thorny or prickly bushes are Pyracantha and Flowering quince. The lovely Pyracantha shrub boasts both gorgeous berries in the fall and lovely flowers in the spring. Flowering quince will burst forth with a profusion of flowers in the spring and is a fast growing hedge.
A Truly Green Landscape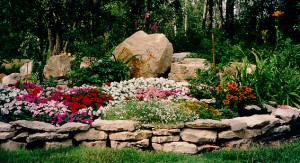 The concept of green landscaping today has a different connotation than its counterpart of several years ago. The green landscapes that were popular among homeowners featured velvety soft lawns and lush, verdant shrubs, trees, and perennials that were raised in hothouse environments and needed significant babying in order to retain their vigor and good lucks. Today, however, green landscaping means using energy saving plants that have drought-resistant properties or are otherwise acclimated to the specific growing conditions in the region where they are planted. This most often means using native plants rather than nursery-grown hybrids.
Energy saving landscapes have become extremely important in parts of the world that are experiencing serious water shortages. For instance, homeowners in California rely on energy saving ground cover plants to take the place of resource-intensive lawns that need to be well-watered on a regular basis. If you are curious about what types of plants might work best in your particular area, your local landscaping professional should be able to provide you with inspiration and assistance.
Besides providing you with significant savings on utility costs, green landscaping will help create a healthier environment, particularity if you use native plants. Native plants are already accustomed to your local soil and precipitation conditions, and they will also have a natural resistance to area insect pests and plant pathogens. Because of this, there will be no need for chemical fertilizers and pesticides, which will help prevent your groundwater from becoming contaminated. It will also provide food for beneficial insects and birds, contributing to a vibrant and diverse local ecosystem.
Landscaping with energy saving plants will also decrease the amount of work that you have to do in order to maintain and attractive outdoor living space, leaving you with more leisure time in which to enjoy your home environment.
Is It Mold?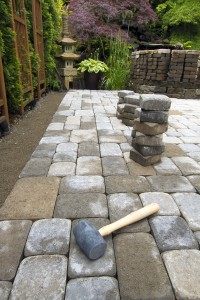 Spring is here delivering the beauty and bounty of green grass, fresh flowers, and numerous other wonders of new life and it is also the time for excessive water from melting snows and spring rain showers. Although this is beneficial to the growing things around a home, it is also the makings for problems with flooding and mold & mildew growth. To ensure safety of your structure and the health of your family, it is important to know what mold and mildew are and how to eliminate these dangers.
Mold is a type of fungus that thrives and grows in moist dark environments on organic materials. You can find this along walls, floors, window sills, corners, and ceilings in areas where dampness is problematic. The color of this growth may be white, orange, green, or black.
When a home mold detection uncovers any of this discoloration, it is imperative to eliminate this threat immediately. It is important to hire a professional mold cleanup specialist to ensure the complete removal of the mold detection issues.
Mildew is the condition caused by excessive moisture resting on natural materials such as plants, wood, leather, or paper. This type of mold often produces a musty smell when in a closed in room or area. This type of home mildew detection is often easily cleaned with commercial mildew cleaners or bleach.
The cleaning agents for treating mildew are effective, but often messy and they may discolor the area. Professionals in the area of mildew detection are able to remove this health threat easily and safely.
For complete and guaranteed removal of all of the unhealthy components that a technician finds in a mold detection check, it is important that a professional mold detection specialist treat the affected areas. A quick mold detection check of the damp areas of your home will keep you on top of the situation.
Environmental Hazards and Your Business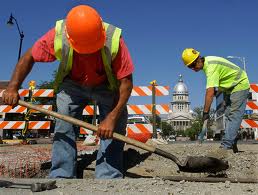 For anyone who owns a commercial property, you know just how important it is for you to keep the entire area as safe and secure as possible. If you're dealing with a lot of hazardous waste, it is absolutely essential that you get rid of these things to provide your workers and clients with a safer place to visit. The truth is that hazardous materials can cause a lot of problems, from slips and falls to issues concerning your workers' safety and health.
Considering the overall removal of hazardous materials will help to clean up your property and keep it entirely safe.One of the first steps you'll want to take as someone who owns a commercial property is to consider an inspection for hazardous materials on commercial property or building. The inspection will be done by a professional who can specifically look for things on your property that might pose a risk or danger to anyone who happens to be working or walking around it. Once the inspection has been done, you will have a list of anything there that should be removed in order to prevent problems and a possible lawsuit on your own part.The disposal of hazardous materials means more than just getting rid of something that might just look bad, it can help to make your property safer and even prevent you from being hit with a lawsuit if someone gets hurt while they are on the property itself. The most important thing is to have that initial inspection done to find out exactly what is on the property that should be removed. Once this is finished, you will want to consider having the disposal of hazardous materials done by a professional company in a quick, efficient and highly affordable manner in order to benefit from them.
Home Safety & Land Clearing in Melbourne, Florida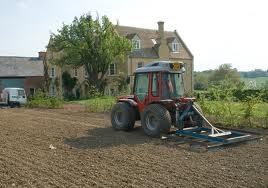 When it comes to projects around the house, homeowners must consider whether it makes more sense to do the work themselves or hire a contractor. Often, the decision comes down to whether the job can be done safely without special skills and equipment. One of the best home safety tips when clearing land may well be to turn the job over to a contractor whose expertise includes land clearing services. If the project involves tree removal, it is important to keep in mind that logging is one of the most dangerous occupations in existence. Homeowners must keep in mind that using conventional land clearing methods will expose them to many of the same hazards found in the logging industry. This makes a good case for outsourcing the work.
One of the most obvious concerns when clearing land is the potential to be struck by falling tree limbs or even trapped under falling trees. In addition, without a sure method for ensuring the tree falls in the right direction, significant property damage could occur. Once the tree is on the ground, it must be cut into smaller sections and removed. Even relatively small sections can be heavy enough to cause a back injury without the proper equipment.
Other issues with which homeowners may be confronted include insects and snakes. This issue is even more concerning if one of the individuals doing the work is allergic to bee stings. Bees are known to have nests in trees, bushes and even in the ground. An encounter can easily turn into a very unpleasant surprise. Land that needs to be cleared is also good habitat for snakes. While many snakes are harmless, there are a number of poisonous ones that could be present as well.
Clearing land can also expose individuals to vegetation like poison oak, poison sumac or poison ivy. These plants are often found around trees or bushes and can easily go unnoticed because they blend in with their surroundings. Consequently, one of the best home safety tips may very well be to hire a contractor.
I Want Low Maintenance!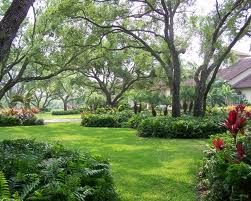 For many people, their yard is their sanctuary. It is a place to sit and unwind or to look out and admire. It can be easy to get sucked into to an ornate landscape with the need to water, weed, prune and maintain.
Yard owners in hot places may have the added concern of needing to conserve water or protect delicate plants from the drying sun. Having a low maintenance yard does not mean having to resort to a plant-free environment.
There are plenty of low maintenance options that go beyond rock and concrete jungles. Planning a low maintenance yard all starts with choosing the best landscaping shrubs and plants.
There are a variety of heat tolerant and low water plants that can add variety and interest to a garden without taking a lot of time and resources to keep looking good. Succulents are one kind of plant to consider when planting a garden that's easy care. Many people think of low, fat leaf, flower-looking plants that are nothing but green, but succulents actually include a wide variety of shapes, colors, and sizes.
Look to yuccas to add some height. Many resemble palm trees or spiny, over-sized sea urchins, and others spike out from a squat base that looks a bit like a palm tree trunk. Other taller plants include the easy-grow and beautiful jade bush, an elegant and graceful plant called a ponytail palm (which is actually not even related to palm trees), and colorful crown of thorns.
Low growing sedum, flowering kalanchoe, and spiky aloe are good choices for the base of a low maintenance yard. And do not forget the wide variety of cacti.
With proper planning and a little advice from local landscaping professionals, anyone can have a beautiful, low maintenance yard.
To Mulch or Not To Mulch?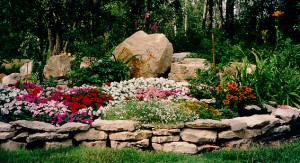 The benefits of mulching are numerous. For instance, less water is needed when land is covered with mulch. Mulch provides a barrier between the soil and the sun, which allows the soil to maintain its moisture content. Not only is less water needed for plants and trees, but plants and trees receive a steady supply of water because it does not evaporate.
Nutrients from mulch may benefit the soil, but it depends on the type of mulch that is used. Tree bark may not give off many nutrients into the soil; however, mulch made from leaves will. Using mulch from the surrounding plants and trees provides the yard with the precise nutrients it needs. Mulch can hasten or inhibit the amount of weeds that grow in the yard, which means people spend less times tending to their yards.
It's best to speak with a contractor about land clearing services. Conventional land clearing methods usually requires the use of heavy equipment. It's not advisable for the average person to attempt this without proper training. There are several things to consider as well, such as the best method for clearing land. For instance, trees can have stored up energy after they're cut down. They can move suddenly. This can potentially hurt someone. It's best to let a trained professional to handle clearing land. In addition, there can be regulations on clearing land. People often need timber permits.
Clearing the land and using mulch as a method of water conservation and yard beautification is a good solution to yard care. Obtaining mulch for the yard provides several benefits, but being able to use mulch from the plants and trees in the yard is better because it's cost-efficient and it gives back to existing plants the right amount of nutrients they need.
Spring Cleaning Benefits to your Garden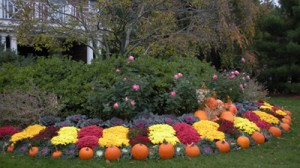 If you own a house and have a yard, you will want to make sure you keep it looking great. If not, you can have a problem when spring rolls around, and you want to go out and enjoy your yard. With this in mind, here are three reasons why you should make sure to clean your yard and maintain it before spring.
Lawn
First and foremost, if you have a lawn, you will not want to see what it looks like after a harsh winter. However, with some residential lawn maintenance, you can easily remove the dead patches of grass and make your yard look great again. Yes, residential lawn clearing is one of the most cost-effective ways to make sure your yard looks great.
Get started on planning
Now, if you are on top of your yard maintenance, you can easily plant your flowers and other items the right day they need to be planted. By removing old plants and any materials related to planting, you can easily sneak out into your yard and plant your bulbs, flowers or fruits and vegetables. Then, when summer rolls around, you will not regret your decision.
Other things to combat
Once spring rolls around, you will have to deal with excessive rain, bugs and other creatures. If you don't take care of your routine spring cleaning early or on time, you are going to be busy in your yard. Simply put, if you have to kill bugs, deal with the rain and do spring cleaning all at once, you are going to have too much work on your hands.
If you have a house and want a nice yard, make sure you clean it up before spring starts. Then, you will have a yard that is the envy of all your neighbors.
The Effects of Land Clearing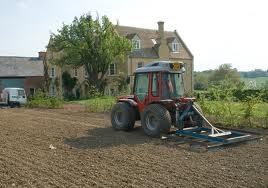 Land clearing often is necessary to build a home or commercial building, but because such clearing can have an environmental impact, it's important to be aware of and mitigate those effects.
One of the biggest effects of both commercial land clearing and residential land clearing is a change in the storm water runoff of the property. Excavation, whether it's a home excavation for a basement or a commercial excavation, can greatly change how water collects on and runs off of the land you are preparing for building.
For this reason, most jurisdictions require a site plan with elevations as well as an environmental impact or environmental remediation plan. If you are working in a flood plain or flood-prone area, you may have to fill in areas to raise them up. That makes it extremely important that you are working with the right contractor for the job. Your contractor should have experience in the type of land clearing and building your project involves.
Another effect of land clearing is erosion. If the site will be cleared of vegetation and left that way for several months, erosion can become a problem, because dirt can blow away. Lawn grading or other types of grading can also move dirt around and leave it exposed to the effects of lawn erosion.
Because of the threat of erosion, your permit may require cover vegetation to be planted on certain areas of the building site to lessen the risk of erosion while building is going on.
Having a contractor with the right experience will ensure the site is prepared properly, from excavation, to grading, to building, ensuring the risks of environmental impacts such as flooding and erosion are minimized.
What Is The Best Topsoil For My Garden?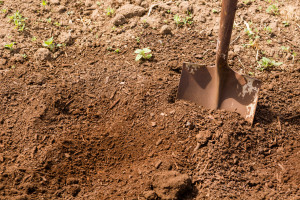 Purchasing topsoil for a garden may seem like an easy task. All that an individual has to do is go to a store that sells topsoil and purchase some. While that may be a basic example, the fact of the matter is that homeowners need to do some research before purchasing topsoil for a garden.
People who are considering topsoil need to think about topsoil usage. When doing commercial land clearing or residential land clearing, topsoil is necessary in order to give a lawn or garden the help that it needs. At the same time, the usage might be different between a lawn and a garden. There is topsoil that can specifically help challenges that pertain to lawn grading and lawn erosion. In home gardening, a different type of topsoil may be necessary.
It is important for people to recognize the types of soil that is within a property. Some soil within a garden can contain a high level of sand. Other soils may feature clay. Areas with high levels of sand can create a situation in which the soil does not retain water. The opposite problem occurs with clay. Clay retains water well, but it can prevent water from receiving it. It is necessary to purchase the right balance of topsoil that will compliment the garden soil. In addition to this, loam features a mixture of sand and clay. The right variety can do wonders for a garden or a yard. Knowing what type of soil is within a property can help a homeowner greatly.
The variety of topsoil on the market allows gardeners to select the best blend for a garden. Professionals are able to give assistance and answer questions about topsoil that is being sold. Whatever the case is, topsoil provides a fresh start to a garden.